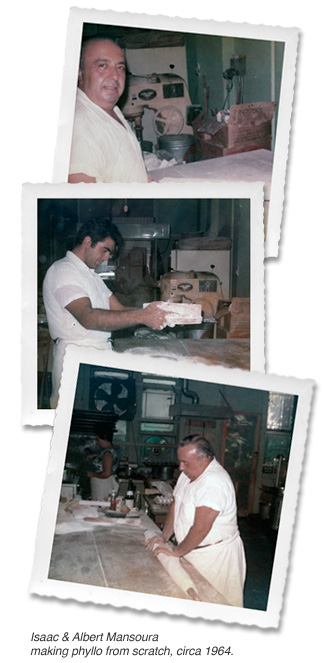 For well over 200 years, the Mansoura family has been producing the finest Mediterranean and Middle Eastern specialty foods. Mansoura's Bakery creates an array of authentic handmade pastries and hors d'oeuvres unparalleled in taste and quality. They use only the finest ingredients and ancient family recipes to prepare specialties from Greece, Turkey, Syria, Israel, Egypt and Lebanon.
The baking legacy began in Aleppo, Syria circa 1780, where their ancestors opened a bakery and confectionery business. Over the next hundred years they earned a reputation for being the best at their trade.
By 1910, Abraham Mansoura found himself in Cairo, Egypt seeking new opportunity and testing his skills as a master baker. For many years, he struggled and by 1930, stepped aside for his son Isaac, paving the way for the next generation and the transformation of the family business. Isaac turned the small bakery into one of Cairo's most elegant cafés and restaurants specializing in handmade pastries. Known as the chic hangout of Egyptian society, Mansoura's attracted heads of state, actors and actresses, singers, local and foreign aristocrats, including King Farouk himself. The Cairo location offered a lively outdoor café, a world-renowned bakery and one of the finest restaurants in the city.
In 1958, Isaac and his family were compelled to leave Egypt because of war and instability in the country. Bound for America, the family spent three years in Paris, France waiting for their visas, and in March of 1961 arrived in New York. Doing what they knew best, Isaac and his family re-established their bakery business in Brooklyn, where some fifty years later it stands in the same location run by his son Albert and wife Josiane along with their three sons.
In 2007, Albert was diagnosed with rheumatoid arthritis leaving him unable to work and forcing him to retire. Albert handed the business down to his sons David and Jack. Still following the practices of past generations, they craft quality pastries and confections using only the highest-quality ingredients.
Over five generations, the Mansoura family has developed a reputation for fine foods and warm hospitality. Today, they maintain that reputation for quality and excellence in all of their products.